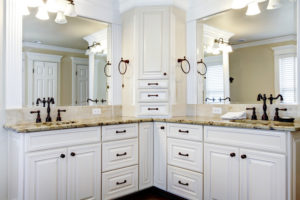 Are you planning for a bathroom renovation? Here is a guide that lets you make a big difference in this space. In case you are going for bathroom remodelling to increase home value, as you want to get a reasonable market price, then go with simple changes. Don't break the bank to have a luxury bathroom as you may or may not recover the full amount from the new seller. Here are some points to consider when going with a renovation project of your bathroom.
Decide on Your Budget
You need to specify your budget line. How much can you easily spend on your bathroom? Of course, you are not going to get under a debt burden for this small change in your home. So, decide your budget limit and don't cross it.
Know What you Need and How Much Does it Cost You
If your bathroom is out-dated, then it needs significant changes like floor and wall tile replacement. When your toilet seat is not working, or your kids need a bath-tub, then it means you have to spend a little more money on your bathroom renovations.
Grab a pen and paper, make a list of all the things you need, and then start getting the exact cost estimate. You can either go to the local market or check the price of products online. The latter option seems excellent as it will save your car fuel and let you get an exact cost estimate without moving around.
Go with DIY Approach or Hire an Expert
It is always recommended to get expert services for floor installation, plumbing and electricity work in your bathroom. However, if you are good at plumbing or installation, then you can save some money by going with DIY approach. But if you are avoiding experts for the sake of money-saving purpose and it's your first time with everything, then you are going to cause severe damage to your space. If the price is the primary concern, try to hire those experts who can give you a helping hand for bathroom renovations with a price you can easily afford.
Watch for Deals and Coupons
Many online stores offer deep discounts or first customer coupons. When you are tight on budget but what to do luxury style bathroom renovations, then you can make the most from these deals. Subscribe to online stores that sell the best bathroom fixtures and other products. These subscriptions will help you get alerts for discounts and sales. Avail those discounts and cut the overall cost of your bathroom remodelling project.
Take into Consideration Needs of Your Family
When you are planning to make some changes to your bathroom, then you should ask your family members what they want. In case you have only one bathroom in your home, then you must have to separate the toilet and shower. So, a bathroom can be used by two family members at the same time without any difficulty.